Investor relations and RFP teams need modern platforms that combine offline and digital diligence requests. 
DiligenceVault provides a digital solution that can translate into a competitive advantage.​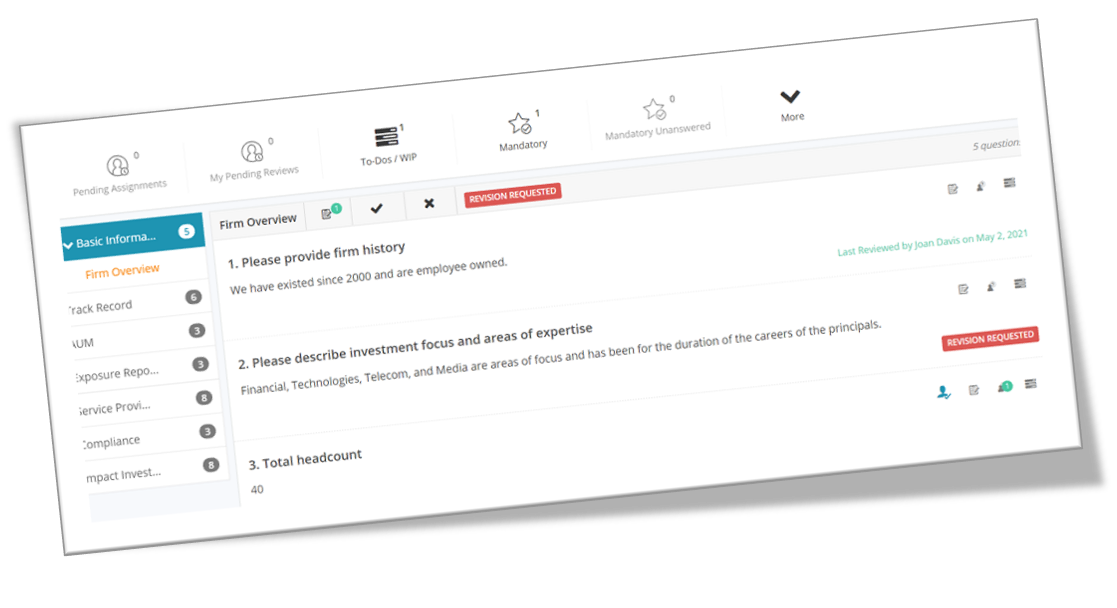 DIGITAL DILIGENCE
Digital Portal Experience
DigitalDiligence is a core module that makes it easy for you to respond to a variety of investor requests for FREE.
Track progress on a centralized platform to deliver responsiveness
Avoid avoidable and costly errors when responding to repeat requests or similar questionnaires, and eliminate errors that come from manual processes
Establish an institutional review process to ensure excellence
Enable transparency for the entire team on a centralized platform
PREMIUM FUNCTIONALITY
Automate Offline Requests
Experience the premium module that enables you to automate all investor data and diligence requests.
Eliminate the need for copy and paste from multiple data sources by centralizing your content
Overlay collaborative review process in generating opinions and recommendations for all requests
Create tearsheets from all your content in a few clicks in your brand

COMPLETE EXPERIENCE
Database and Regulatory Form Management
Reuse centralized content across multiple use cases within the firm to manage conflicts in all external submissions:
Deliver shared access to firm-wide data for product management
Collaborate with compliance and legal teams to regulatory compliance
Prepare content efficiently for investment databases such as Mercer, eVestment, Callan, and many more.
VIEW MORE
Case Study: Accelerating Investor Relations

Scenario

An asset manager has received customized information requests in Word and Excel for its current fundraising mandate from multiple consultants, end investors as well as a bank platform.

Current Process Using DiligenceVault

1

Locate most recent responses in a shared drive

2

Copy and Paste responses for repeat questions

3

Multiple follow-ups for internal SMEs

4

Collate final output, and format to email to investors

1

Upload all investor requests

2

Auto-fill responses and review outliers

3

Track and view responses as they get approved internally

4

Share results with investors, and monitor engagement

Frustration Meter

Aggravated
Want to see how it could work for you?