Whether you are an emerging manager or an established multi-asset manager, delivering the right product information on a timely basis is a crucial component of your competitive positioning.
Develop a 'single source of truth' for all your firm, strategy, and product marketing requirements.  

DIGITAL FIRST
Digitize your product content
DigitalDiligence is a powerful, yet flexible module that helps you create a standard content database.
Build a repository of usable, structured product and firm data and documents including AUM, performance data, key product information, database templates, and more.
Eliminate the need for copy and paste from multiple data sources
Maintain ownership and audit trail of all changes
Enable transparency for the entire team on a centralized platform.
COLLABORATION LAYER
Delight In Collaborative Authoring
Collaborate as a team with marketing, compliance, product, and client experience teams
Collaborate with subject matter experts to get the right information quickly
Institutionalize review process to eliminate any errors
Maintain transparency over review workflows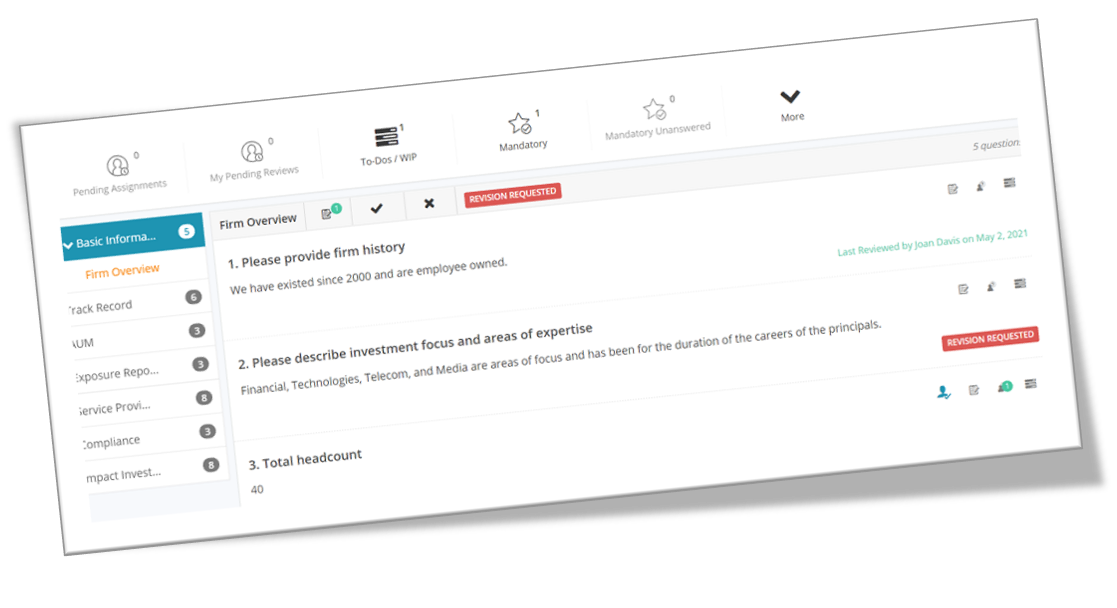 EXPERIENCE THAT MATTERS
Deliver a modern experience
Leverage pre-built templates to populate key databases
Build investment database templates for Callan, eVestment, Mercer, Wilshire, and other 15+ databases to ensure the information is always available in your Vault.
Deliver a responsive experience to any investor questions and ad hoc queries by providing FAQ access to your product teams
Want to see how it could work for you?